[ad_1]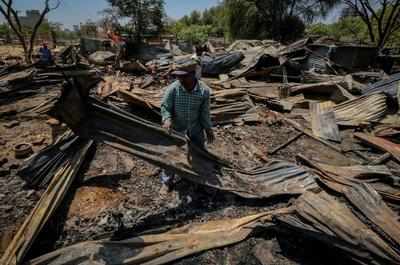 Gurgaon: Around 50 families lost their homes after a fire broke out in a shanty at Wazirabad on Sunday. No deaths or injuries were reported and local people suspect that the blaze, which started around 12.30 am, was triggered by a short circuit.
"Fire officials managed to douse the flames around 3.30 am," said a resident, who alleged that the firemen asked them for eight bottles of liquor for the operation.
Senior fire officer IS Kashyap, however, denied the charges. "They are making false allegations. Our team was there within minutes to douse the flames and the officials left only after completing their job," said Kashyap.
Several shops near the shanties were also damaged in the blaze.
"I was sleeping when a man raised the alarm. I managed to grab my child and we rushed out of the house. We have lost all our savings and our house now," said Maneera, a from West Bengal, who has been staying here for more than two years.
Daya Singh, who had a shop of utensils, said: "I have suffered a loss of Rs 2.5 -3 lakhs. I don't know how I will feed my family," he said. Till Sunday afternoon, the residents did not get any help from the government.
FacebookTwitterLinkedinEMail
[ad_2]
Source link