[ad_1]
NOIDA/GHAZIABAD: At a time the district administration in Gautam Budh Nagar has claimed that there is no shortage of beds in Noida, some private hospitals have reportedly started refusing admission to residents of Delhi and other neighbouring cities.
All beds at the two government Covid facilities in the district — Government Institute of Medical Sciences (GIMS), Greater Noida, and District Hospital in Noida's Sector 39 — are currently occupied. As of now, the district has 2,459 Covid beds and 1,056 of them are full. Of these, 393 beds are occupied by people from other districts.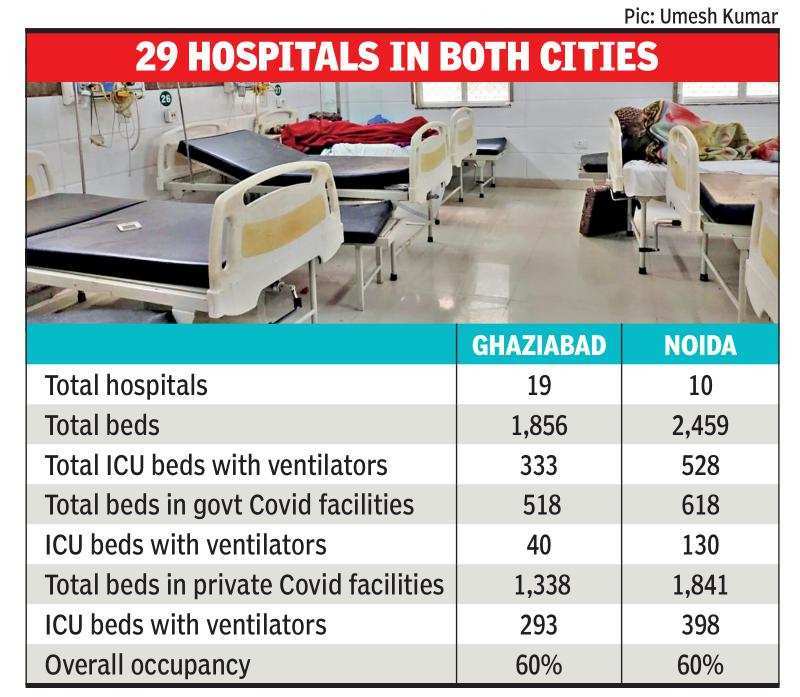 "There is no shortage of beds for now. We have been able to take in all emergency patients, including those from outside the district. However, we may have to implement some restrictions soon. We will increase the capacity and take over more hospitals to treat Covid patients," said a senior official from the health department in GB Nagar. Officials said there 528 ICU beds in the district and 136 of those are available. Noida has 10 Covid hospitals, including the two government facilities.
In Ghaziabad, officials said, most hospitals have run out of ICU beds. The overall occupancy in Covid facilities is 60% and the district magistrate is planning to convert a 300-bed hospital to a Covid facility in the next few days.
Residents, however, said they are finding it difficult to find beds."A friend asked for admission at a hospital in Noida's Sector 39 and she was told no beds are vacant. Officials should make arrangements for more beds immediately," said Amit Gupta, a resident of Sector 77, Noida.
Some residents' groups have also reached out to the district magistrate of Gautam Budh Nagar seeking a list of hospitals and the number of beds that are available.
Ghaziabad chief medical officer NK Gupta said the occupancy rate at private hospitals is more than government facilities. "We have 70% occupancy at private hospitals, while it is 55% in government centres," he said.
District magistrate Ajay Shankar Pandey, however, said there is no shortage of beds. "We have 19 Covid facilities, which have the combined capacity of 1,856. We also have 333 ICU beds with ventilators. We are trying to get more beds and a hospital in Hapur will be turned into a 300-bed Covid facility," he said.
[ad_2]
Source link