[ad_1]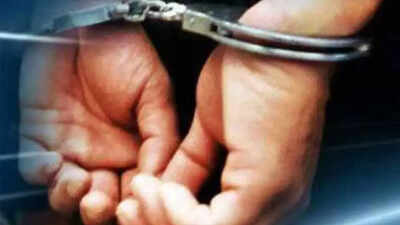 Special teams have been set up to arrest the other accused (Representative image)
SHAMLI: A day after bodies of 45-year-old Bhupender Singh and his 20-year-old son and kabaddi player Arjun Singh were found in the Kandhla region of Shamli, police have booked a UP police constable posted in Noida among six for the "kidnapping and murder" of the father-son duo.
According to police sources, each body had a bullet wound and the two seemed to have been tortured before being killed. Two other cops, both posted in Kandhla, have been suspended for "dereliction of duty", said Sukirti Madhav, SP (Shamli), on Thursday.
Sahib Singh Rana, a relative of the dead men, said, "Bhupender's family lived in Kankerkhera region of Meerut and was the neigbhour of one Vikrant Singh, a UP police constable and resident of Makhmoolpur village in Kandhla, currently posted in Noida. Bhupender had taken Rs 2 lakh from Vikrant for some work but when the later demanded Rs 5 lakh in return, with interest, it led to friction between the two."
According to police sources, on Wednesday evening Bhupender, his mother Suresh Devi and son Arjun were forcibly taken to Kandhla, where the family members of Vikrant tortured the father-son duo. Later, Suresh Devi was released and sent to Meerut to fetch the money in question even as her son and grandson were held captive.
She informed Meerut police about the incident and they, in turn, informed Kandhla police that dispatched a Police Response Vehicle (PRV) to rescue the two men. Two policemen in the PRV, who have now been suspended, returned empty handed from the spot, saying they were unable to rescue Bhupender and his son. Hours after that, the two men were found dead with torture marks on their bodies, recovered from the forests of Sulfa late Wednesday night.
On Suresh Devi's complaint, police booked six people — constable Vikrant Singh, his brother and four others — under IPC section 364 (kidnapping for murder) and 302 (murder). "Police have arrested five of the accused — Vikrant, Monu Singh, Arjun, Mudresh and Shivani. Special teams have been set up to arrest the other accused," SP Madhav said.
FOLLOW US ON SOCIAL MEDIA


[ad_2]
Source link